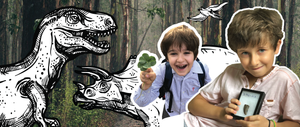 BuyRealFossils.com
We are LEO and PHILIP and we LOVE FOSSILS.
My aunt TOULIE knew this and looked REALLY hard and bought us some REAL FOSSILS for a gift.
WE LOVED OUR FOSSILS SO MUCH!!!!
Then we (I mean my brother Leo ;) thought to himself:
Why shouldn't every kid have a REAL FOSSIL(s)?
The idea to start a FOSSIL BUSINESS was born!
That is how we started our business BUYREALFOSSILS.com
(And our DAD helped a little too ;).